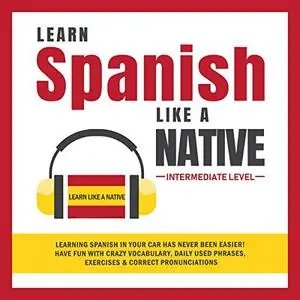 Learn Spanish like a Native: Intermediate Level: Learning Spanish in Your Car Has Never Been Easier! Have Fun with Crazy Vocabulary, Daily Used Phrases, Exercises & Correct Pronunciations [Audiobook] by Learn Like a Native
English/Español | March 18, 2020 | ASIN: B0861V3ZF4 | MP3@128 kbps | 5h 7m | 282 MB
Narrator: John E. Martinez
This audiobook will show you how to have effective conversations with native Spanish speakers, even if you're only at the beginner level.
Do you know that 65 percent of people in Spain don't speak any English at all. Of the remainder, very few speak it well.
What?
Your beginner's Spanish isn't too bad. But it's precisely that: beginner's Spanish. Not the level where you can have full exchanges. While traveling to Spanish-speaking countries can be stressful and full of miscommunication, there is a doable workaround.
If you have the basics down, you can target your learning to the situations you expect to encounter most often. This makes the learning manageable and fast, particularly when you have a guide that effectively organizes learning through real-world situations.
Here's how you'll benefit from Learn Spanish like a Native: Intermediate Level:
Presented in a convenient audio format so that you never have to stop learning
Narrated by a native Spanish speaker, so you can pick up the perfect accent with a natural approach to phonetics and pronunciation
Covers the most common situations, providing detailed vocabulary and phrases necessary to communicate efficiently
Several conversation examples that will teach you how to answer any question effortlessly
Lessons that also build on one another so you acquire comprehensive speaking skills
Verb conjugations that cover the most useful tense and prevent you from ever being at the wrong place at the wrong time
And much, much more!
The trick is to focus on precisely what you need to make your learning efficient, fast, and, most importantly, practical.
If you want to be able to converse fluently in Spanish in no time, then scroll up, get this audiobook, and start learning today!