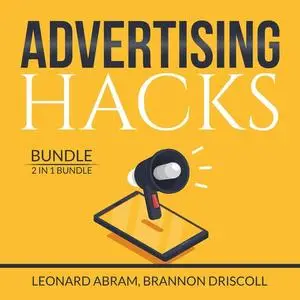 «Advertising Hacks Bundle: 2 in 1 Bundle, The Website Advertising and The Advertising Concept» by Brannon Driscoll, Leonard Abram
English | MP3@192 kbps | 1h 39m | 136.2 MB
Advertising Hacks Bundle: 2 in 1 Bundle, The Website Advertising and The Advertising ConceptAll businesses need promotion. Businesses need to get the word out so they could get on the radar of customers. It is essential to always acquire new customers because, without them, your business would fail. Business owners should recognize the importance of coming up with a great advertisement. Advertising has evolved through time and one cannot undermine its impact on the modern economy. Coming up with an awesome advertisement that will surely stand out might take a bit of trial and error but as long as you follow the tips you will learn in this audiobook, you will eventually come up with a winning advertisement. Advertising is also a great way to earn money online. If you have a website or a blog, you could be earning money by selling advertising. But website advertising is not as easy as it sounds but anyone can certainly learn how to become successful with it. In this bundle, you will learn all the information about different advertisements you could create, post, purchase, and use so you could advertise your business. You will discover different types of advertising you can buy and where you can buy it from. You will learn effective strategies on how to make sure all your advertising campaigns are profitable. You will also learn all the essential information about website advertising and the ways on how you could generate income on your site through advertising.This two-in-one bundle includes the following audiobooks:1. Website Advertising: The Ultimate Guide on Website Advertising, Discover the Effective Strategies on How to Increase Your Website Traffic Through Advertising and Promotion2. The Advertising Concept: The Ultimate Guide on Successful Advertising, Learn Advertising Tips and Paid Advertising Secrets That Would Help Your Advertising Campaigns for Your BusinessGet your copy of Advertising Hacks 2 in 1 Bundle today!