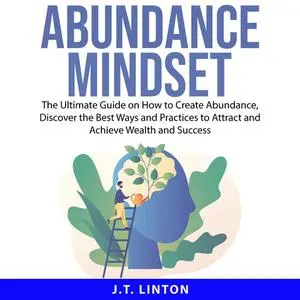 «Abundance Mindset» by J.T. Linton
English | MP3@192 kbps | 36 min | 49.9 MB
Abundance Mindset: The Ultimate Guide on How to Create Abundance, Discover the Best Ways and Practices to Attract and Achieve Wealth and Success
Abundant thinking is a form of positive thinking. It is about creating a mindset of positive values that allow you to perceive your life as one of abundance, not one of deficit. It teaches you to flip your mental attitude coin from negative to positive and appreciate how much you have in your life to be grateful for.
Here Is A Preview Of What You'll Learn… 
The Law of AbundanceWhat Is Abundant Thinking?How to be An Abundant ThinkerThe Alternatives to Abundant ThinkingAnd much more
Abundant mindset is about being grateful for what you do have rather than focusing on what you lack. It involves having no hard and fast expectation of what you will receive based on some egotistical notion of what you deserve out of life. It says: be happy with what you have because it is all effectively on loan to you whilst you are here, and if you want more then take the appropriate actions to achieve more, but remain happy in the knowledge that it may not happen as you expect. 
Take action today and download this audiobook now!